Leashes. They're incredibly essential to maintaining safety, especially when we have our dogs in unfamiliar and exciting places (which are naturally the most photogenic!), and yet they can be such an eyesore in a photo. Luckily modern software has given us a powerful suite of tools for removing leashes that, when used correctly, will preserve the detail — or at least the illusion of detail — in a photo, all while keeping our loved fourleggers safe from harm or mischief. (I've included some photos at this end of this post, some of which have had leashes removed, and some of which have not.  Can you tell the difference? Feel free to post your guesses up on my Facebook page.)
I use a few different methods for leash removal. My favorite in terms of detail preservation and ease of use is the taking of a "blank frame" after I've gotten my shot. The photo series below illustrates the efficacy of this method. I took a photo of the lovely Coral, and then asked her handler to take her out of the frame, at which point I — and this is the key to this method — switched my lens to manual focus so as not to change the focal plane from my original shot, tried to match my original framing as closely as possible, and took a photo of an empty background. Once I brought the two photos into Photoshop, I masked over the areas of the first shot that I didn't want, like the leash and, in this case, the shadow, and came out with the composite below.
Like just about anything, though, this method is not without its drawbacks. It can preclude an element of candidness in shots, since it requires forethought and preparation. It can also be extremely tricky to match up the blank frame with the initial frame, even without changing focus, unless you're using a tripod and controlled lighting. Slight movements on your part, or changes in lighting like the passing of a cloud over the sun, or even reflected lighting changed by the absence of the subject, can make big differences between the two shots.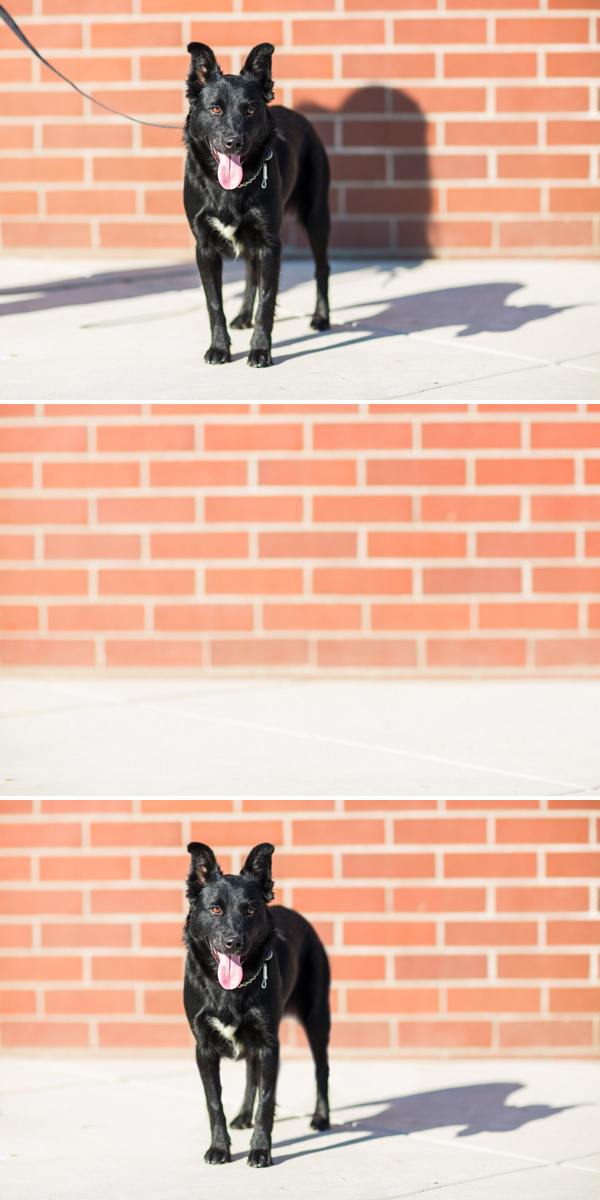 A more spontaneous method of leash removal is cloning, or sampling details from another part of the photograph and using them as a paintbrush of sorts. Depending on the types of details being painted over, this method can range from extremely easy to extremely tedious. I've found that extremely blurred foliage and grass, for instance, are very forgiving, but a dog's fur or body can show almost every attempt at cloning like a neon sign. The way the leash is held during the shoot often makes a huge difference in the quality and ease of leash removal through cloning.
Again, though, cloning has its drawbacks. If you're not careful, you can introduce repeating patterns, since you may have a finite amount of "source" material to draw from, that stick out like a sore thumb, or you will find that the portion you've cloned over looks unnatural, or contains very subtle gradations that can be extremely hard to match properly. Leash removal through cloning can definitely be a labor of love. 😉
I know that more recently Adobe has touted its content aware fill utility in Photoshop, but I've found this tool unreliable at best. The content aware tool samples the area around a selected portion of the image and looks to automatically create a natural looking fill. Unfortunately it usually produces results that are far from useable, so in my case I haven't gotten much use out of it.
I've posted five photos below, some of which have had leashes removed, some of which have not. Can you guess which is which? Feel free to let me know what you think via Twitter or Facebook. 🙂